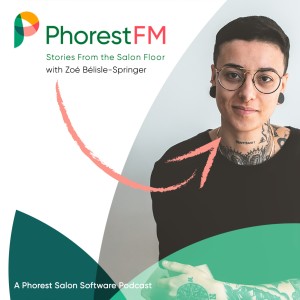 Monday May 09, 2022
Kristin Rankin & Lauren Wilde on Running Gender-Affirming Salon Spaces (Rerun)
[243] "It kind of never happens to get to choose how you can look, to that extent."
At Phorest, passion and ambition connect us with salon owners and staff all over the globe, helping you grow and celebrating every success. We say yes to equality and no to hierarchy, and we show up tirelessly every day.
Publishing a third rerun so soon after the last two wasn't part of the plan for May, but our host Zoé's vulnerability and willingness to share a bit of their story tied in perfectly with a conversation aired on the podcast last year.
In this episode from Phorest FM Season 5, we discuss the birth of Kristin Rankin's brainchild — The Dresscode Project — explore the ins and outs of creating safer spaces for all clients and chat with salon owner & educator Lauren Wilde on the importance, meaning and the day-to-day of a salon that's more inclusive of folks across the gender spectrum.
Links:
Learn more or become a part of The Dresscode Project Salon Alliance: https://www.dresscodeproject.com
Reach out to Kristin Rankin (they/them) @kristinrankinhair or on www.foxandjanesalon.com
Reach out to Lauren Wilde (she/her) @wildehairday, @frizz.and.fantasy or on www.roseandonyx.com
Click here to subscribe to the weekly Phorest FM email newsletter: http://bit.ly/2T2gUj1
This episode was edited and mixed by Audio Z: Montreal's cutting-edge post-production studio for creative minds looking to have their vision professionally produced and mixed. Great music makes great moments.
Leave a Rating & Review: http://bit.ly/phorestfm 
Read the transcript, or click here to learn more about Phorest Salon Software.